Hey there, it's Kathleen (aka ScatteredConfetti) here and I'm excited to share my first project as a member of the Tonic SMDT with you today! Although I am more of a scrapbooker than a cardmaker, in the past few months I have been making more and more cards and when it came to creating my first project for Tonic, for some reason I was really itching to make some cards, too.
I really like creating all kinds of shaker elements, be it for cards, in mini albums, or as tags. I think they are just so much fun and add that interactive element. So first, let's have a look at the two sets of shaker card and tag that I created:
Step-by-step Instructions
I began by watercoloring a sheet of the A2 watercolor pad. I first sprayed the sheet with water, using my Light Mist Spray Bottle.
For the set above I then used a mix of the Ocean Air and Arabian Nights Aqua Flow Pens, the set below features the Lilac Waterfall Shimmer Powder.
When the sheets were dry, I used the Mixed Edge Rectangle Dies to cut out a large scalloped rectangle. With an x-acto knife, I then cut a smaller rectangle from the scalloped one. (I could have used a die from the die set, but I needed a border that was a little wider)
In order not to waste any of the watercoloured paper, I repeated the step above with a smaller scalloped rectangle die.
Next, I adhered a sheet of acetate behind each frame and added fun foam around the borders.
I then filled each frame with a mix of sequins and gems. I used: Silver Rain Sequins, Rainbow Quartz Triangles, Amethyst Squares, Crystal Gems (my favourite!) and Water Droplets.
Then I adhered the two large frames to a white card base. The two smaller frames I backed with the rest of the watercoloured paper.
The final touch was adding the sentiments. For the cards, I used the Hooray Banner & Die stamp set to first cut out the banner from white cardstock and then stamp and heat emboss the two sentiments that are included with black and Crushed Mulberry embossing powder.
For the tags, I die cut the words love and dream (using these die sets) from various coordinating specialty papers. My absolute favourite is the new Holo Waves Mirror Card paper, and it works really well with the Berry Fizz and Nebula Purple Glitter Card that I used.
Watercolor & Embossing Card
When I was done with creating the shaker cards, I still wanted to play a little more with the Aqua Flow Pens, so I made another card. For this card, I used the largest flowers from the Magnificent Magnolia and Dainty Daisies stamp sets and heat embossed them in white on my white card base.
I then used the Lilac Waterfall Shimmer Powder, the dark red and pinkish purple from the Arabian Nights pens and the Royal Plum ink pad from the Sunset Serenade set to colour the flowers.
For the large 'love' sentiment I used a die set from my stash and the Berry Fizz Glitter card and Frosted Silver card with a satin effect. I love that all of these speciality papers I used are very sturdy so they are perfect for die cutting even more intricate designs like those words. For some finishing touches, I used the Crystal Gems again and sprinkled a few of them around my card.
I hope you enjoyed these projects and feel inspired to maybe create your own shaker elements! Have a look at the Nuvo Glitter Collection, I am sure you will find something for your next project!
Thanks so much for stopping by! Have a great day and until next time! 🙂
Kathleen
SUPPLIES LIST UK SHOP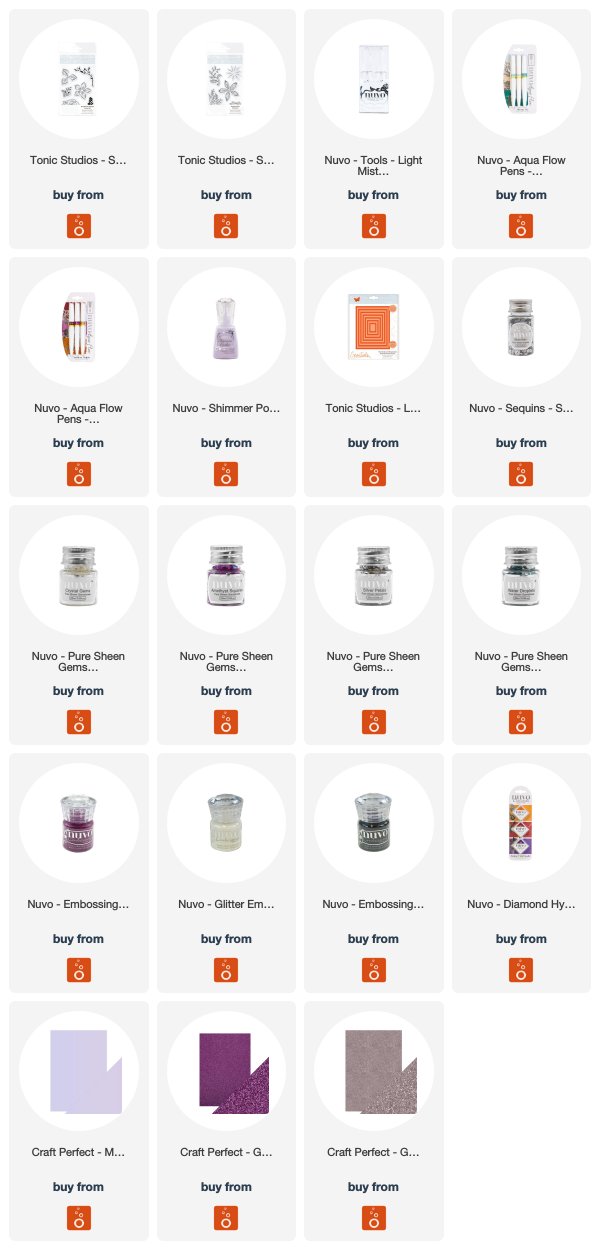 SUPPLIES LIST USA – SHOP